When we recently discussed the MLB's most valuable teams, we gave credit to fans of the New York Mets for their undying loyalty to the team. Of course, the Mets aren't the only major sports team with a dedicated following. Every team has some sort of fan base, and while many players see their fans as part of the team's identity, many fans see the team as a part of their own identity as well.
Unfortunately, this is not always for the best. Some fans are prone to taking things too far, potentially becoming injurious to the integrity of the franchise they are supporting by engaging in activities that are potentially harmful to themselves or others. We are not talking about your run of the mill crazy fan behaviors such as dressing up in elaborate costumes and body paint, getting a tattoo of a favored player's name, or spending hundreds of dollars on an unsigned jersey. While these behaviors may seem strange to some, they are generally harmless. We will also try to avoid mentions of petty behaviors such as internet squabbling, even in cases in which fans cursed out a little girl for getting to meet Jimmy Graham.
Instead, we are going to look at some of the most deplorable examples of fanaticism, instances in which fans of various sports showed themselves to have a truly insane love for their favored team. In addition, we'll assign "winners" to the teams that seem to have the most insanely dedicated fans in each category.
Naturally, we would like to start with the caveat that we bear no ill will toward any of these teams or their legions of fans who fill the stands to support them without resorting to violence or other shameful behaviors. The fans below are thankfully not in the majority, and do not represent other fans, teams, or the world of sports at large. The fact that their actions have reflected on those with a true appreciation of athleticism and pride for the home team is truly regrettable.
#5. Forgiving Just About Anything
This one isn't really unique to sports, nor is it technically harmful to anyone, but it still deserves a mention on any list of insane fan behaviors.
Remember Joe Paterno? If you don't follow college football (and if you were living under a rock in 2011), then you might need a refresher. Joe Paterno was the head coach of Penn State University's football team back when defensive coordinator Jerry Sandusky was accused of sexually molesting students. Paterno was seen as a victim by some when he was subsequently let go, with many overlooking the fact that there was evidence Paterno may have known about Sandusky's actions.
Fans of the Penn State Nittany Lions originally reacted badly to the news of his termination, flipping over a media van and generally vandalizing downtown State College. In 2014, Paterno still had fans behind him when the NCAA lifted certain sanctions against Penn State, reinstating their bowl eligibility as well as returning scholarship allotments. It makes sense to cheer the lifting of sanctions that affect the team at large, but many of those who cheered the reversal were cheering Paterno's name in particular. Apparently, being a good coach excuses inaction in even the worst of circumstances.
Granted, Paterno at least didn't commit any real crimes himself. Continuing to support a sports figure under those circumstances would be a heck of a lot more insane than supporting a guy who allegedly knew about a scandal. Right? Well, tell that to Mike Vick fans.
There were many football fans who were angry at the Philadelphia Eagles for taking in Mike Vick after he completed his prison sentence. Whether or not you agree with their anger is up to you. We understand that, for better or for worse, football is a business and that decent players are often tolerated regardless of personalities or past criminal behaviors.
Other fans, however, were all too quick to forgive Michael Vick for strangling dogs and hanging them from trees after they were no longer good for his dogfights. Fans showed up to games with signs in support of him, many claiming that his actions weren't that bad because he killed dogs rather than people. The astoundingly violent nature of the crime didn't seem to sway their arguments. There were also many who claimed that Vick was influenced by his friends, even though he had stated otherwise in several interviews after he was caught.
Believing that people deserve a second chance is one thing. Instantly forgiving them for a heinous crime and supporting their return to the game that pays them more than most law-abiding citizens? That's another thing entirely. We won't even get into the issues with NBA star Kobe Bryant or soon-to-be NFL player Jameis Winston and the sexual assault allegations against both, but suffice to say that even if they had been proven guilty (their innocence is still questionable at best), they likely would have been forgiven by most of their fans. Some sports fans are not unlike Chris Brown fans, always willing to roll with the punches.
Winner: New England Patriots
Some may be surprised that we haven't talked about the many people who supported O.J. Simpson during his murder trial, but that's because there's a much more recent murder case at the moment. To be fair, the fans who support tight end Aaron Hernandez aren't necessarily doing so out of a love for the New England Patriots, so Hernandez himself is technically the winner of this particular category.
Hernandez was arrested in 2013, charged with first-degree murder after evidence was uncovered that potentially linked him to the death of a man named Odin Lloyd. The day after his arrest, members of law enforcement related to the press that they also suspected him in the double homicide of Safiro Teixeira Furtado and Jorge Correia de Abreu in 2012. He has been held without bail ever since, and the trial is currently coming to a close with the prosecution having rested and the defense ready to present their final testimonies.
Throughout the trial, and even directly following the arrest of Hernandez and subsequent dismissal from the Pats, he has received a fair amount of support. Most of this support has been on social media, with Twitter users (#FreeHernandez) saying that he was set up or simply expressing hope for the best. There are also numerous armchair defense attorneys, claiming that he did not have time to commit the murders or that the evidence is circumstantial.
Of course, as we've previously seen in cases such as that of Boston bomber Dzhokhar Tsarnaev (the "cute one"), some of the support for Hernandez has been coming from his younger female fans. Many have posted comments on Twitter saying that he is "too fine to be in lock-up" and that he's "fine as hell even in that jumpsuit." One user even stated that she wanted to "kidnap him and go to Brazil," a reference to the 2009 movie Fast and Furious. Apparently, being a star football player is grounds for acquittal in the eyes of many fans, especially if they think you're a hunk.
#4. Getting Too Into Rivalries
For some fans, part of supporting the home team is supporting the rivalry. This is especially true of baseball fans who root for the New York Yankees or the Boston Red Sox. There's also a long-standing rivalry between the Los Angeles Lakers and the Boston Celtics. Rivalries exist for every sport in every country, whether at the professional or collegiate level. But sometimes they get way out of hand.
One of the most famous cases of taking a rivalry too far is Harvey Updyke, a fan of the Alabama Crimson Tide who owns a Twitter account that he uses to make fun of pretty much any team that happens to be playing Bama at any given team. His most hated team, however, is the Auburn Tigers. When Auburn won the Iron Bowl against the Crimson Tide in 2010, Updyke was upset and wanted revenge.
It was far from secret that Auburn was proud of their oak trees at Toomer's Corner, which is what inspired Updyke to poison them. He then put in a call to Paul Finebaum (while he was in the middle of his show) to tell Finebaum what he had done. Naturally, it was not long before he was put in cuffs and spent six months in prison. He owes the university nearly $800,000 for the damages he caused. As of September of last year, he had only paid about a hundred bucks. After that story broke, he tweeted the following month that he was going to dress up as a dead tree for Halloween. Classy.
Not everyone is as creative as Updyke. Most people just get into fights. Fans of the Oakland Raiders are pretty well-known for this, especially when their team is playing against the San Francisco 49ers. Raiders fans have gotten into numerous brawls, with their most hectic night being after a game in 2011 that eventually resulted in a shooting. Fans of the Lakers and the Detroit Pistons have also achieved a level of notoriety, especially after a 2004 game in which fans became violent toward one another and even threw chairs, food, and bottles at Lakers forward Metta World Peace (or Ron Artest, to the normal crowd). There was also a notable fight between fans of the San Francisco Giants and the Oakland Athletics in 2011, during which one fan even got into a brawl with a beer stand.
Fan fights have even made it onto the airwaves. This happened during a 2012 fight between a Lakers fan and a fan of the Phoenix Suns. The fight took place during a live broadcast after the game, with the personalities hosting the broadcast completely unaware that fans were scuffling in the background. Fighting on TV is pretty bold, but not as bold as the New York Jets fan who punched a female fan of the New England Patriots in the face in 2013. Surprisingly, he was not arrested.
Of course, not all angry fans get physical. Those who do not have the energy to fight each other or poison trees may simply taunt each other mercilessly, to the point that it is no longer fun and games. A fan of the Miami Marlins disgraced other fans of the team in 2009, when he began spewing curses and insults at a female fan of the New York Yankees. The woman's husband came to her defense and the two fans came to blows, but that wasn't the worst of it. The Yankee fan's daughter, just ten years of age, had begun to cry when she saw her father engaged in physical aggression with another man. As the Marlins fan was ejected from the stadium, he began insulting the young girl.
Winner: Arkansas Razorbacks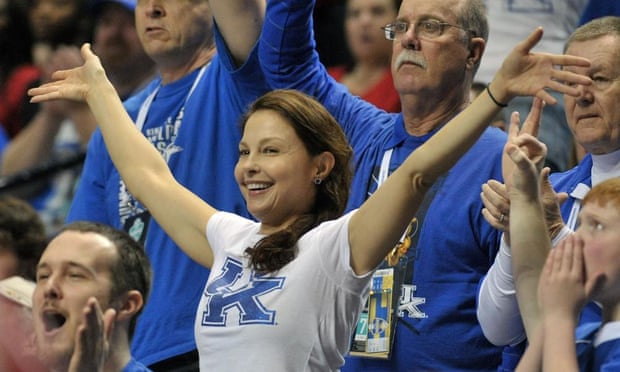 As shown above in the Yankees/Marlins incident, words can be hurtful. That is why Arkansas wins this category, despite the fact that this story contains no fisticuffs or agricultural vandalism.
Arkansas and Kentucky don't necessarily have a traditional basketball rivalry, but no one would have guessed as much after they played in the SEC title game back in March. Hollywood actress Ashley Judd, a big fan of the Kentucky Wildcats, tweeted during the game that she thought Arkansas was "playing dirty." A few Arkansas fans were upset, which they had every right to be. Some of them, however, felt that they needed to strike back as loudly as possible.
Judd's Twitter feed was soon inundated with angry comments, many of which included physical threats. As a fan of March Madness, Judd was open to discussion and even disagreements. What she was not open to, however, was threats of rape and sexual assault. To make matters worse, Judd is an actual victim of rape and sexual abuse. Luckily, not all fans resorted to sexually violent threats. Some just started insulting her family members for no apparent reason.
Putting aside the ongoing discussion in today's world regarding gender roles and the objectification of women in the media, there's just no reason that fans should have reacted like this to one tweet posted by one fan. There is also no reason that things should have escalated when Judd wrote an essay describing her actual assault. Yet she received even more comments, stating that she was overreacting and could not take a joke. Some even implied that she was somehow trying to infringe upon their freedom by expressing interest in pressing charges against the most threatening users for their civil harassment.
People have the right to say what they want, but that doesn't always mean that they should. The Razorbacks have a pretty loyal fan base, but that fan base tends to look bad when so many of its members behave in this fashion. It started as a few fans who wanted to defend Arkansas from accusations of playing dirty, and grew into a horde of internet users playing about as dirty as they could by implying that a woman deserved her former sexual abuse. Fans have to be better than that. It's that simple.
#3. Neglecting All Other Priorities
Fanaticism doesn't have to take the form of violence to become dangerous. Sometimes, it simply takes the form of a fan who has lost touch with reality in such a way that they have begun to neglect the more important things in life in favor of supporting their team. Anyone who decides to permanently alter their body by making a sports bet that involves a tattoo could be said to fall under this category, as could anyone who has ever spent more money than they could afford on memorabilia. Tattoos and memorabilia are fine on their own, but some people certainly take them too far.
Michael Sven Vedvik was not one such fan, although many internet users thought that he was when they saw headlines proclaiming that the Seahawks' last play of the Super Bowl was responsible for his death. While some of the blame for this misunderstanding goes to the journalists who intentionally wrote a misleading headline, the true version of the story is still somewhat classless. Vedvik had passed away in his sleep the night of the Super Bowl, and his family made a joke in his obituary that the Seahawks were to blame. While it appears to just be a joke and all in good fun, it's still going a little far to use a loved one's obituary as a forum for sports humors.
But Vedvik was at least an adult who lived a full life, and who may have even appreciated the joke. The only thing that really makes is classless is the simple fact that we don't know whether he would have appreciated it or not, and it seems like one of those things where it's better to err on the safe side. Not everything, however, is fun and games. Other families have neglected loved ones due to sports, and the statistics are frightening. As much as we'd love to pull specific stories for this next paragraph, the scariest thing about it is that we can't.
Baseball fans are getting a reputation for child neglect. According to national studies, about four out of five kids in the United States will wind up helping their mothers haul a drunk father to his bed on Opening Day this year. The study also showed that about three of five children will not receive dinner, while two of five will be served instant macaroni. Granted, this indicates a potential flaw in the study. It seems unlikely that every child in America will either eat macaroni or starve.
Even so, the fact that anyone felt the need to conduct a study on the matter indicates that baseball fanaticism is a cause for concern in some households. Some of the fathers interviewed in the study even expressed direct plans to drink too much, eat too much, and pass out, all after calling in sick from work. One of them had the gall to follow this with the statement: "It's about baseball. It's about tradition. It's about family." The intended definition of "family" in this sentence is unclear.
Winner: Alabama Crimson Tide
There are just so many stories of Bama football fans who have neglected what should have been their top priorities in life that it becomes difficult to keep track of them all. Oddly enough, each of the ones we have collected here is vaguely comparable to the above paragraph on child neglect in baseball.
The first story involves a mother who actually put her child in direct line of danger. Every summer, fans participate in what is known as the Running of the Gumps. This is a tradition in which fans race across the field to meet head coach Nick Saban. Many of the fans are not accustomed to running a football field, and they are usually racing against one another, meaning that people often eat dirt after a few yards.
Yet they can often be seen holding their kids, sometimes in one arm. A mother was photographed with a child in her arms in 2013, as was a father who had an even younger kid. In 2009, 2010, and 2011, the same couple were in the front of the line each year. The first year, they had a newborn baby in tow, which came to be known by fans as the "dead baby" after it was signed by Saban. In 2011, the couple had a completely different newborn, which they again subjected to the Running.
Not everyone puts their child's life in danger, and some fans at lease have the decency to wait until their children are fully grown before they start neglecting them. This was the case of Freeman and Betty Reese, a couple who got their five minutes of fame when they spent $300,00 for a red RV that played the Tide's fight song through air horns mounted on the roof. The couple had been attending games since the late 1950s, and they weren't about to stop just because their daughter decided to get married. While they went to the reception, they still missed their daughter's hour of bridal bliss just to see the Tide play against Tennessee.
However, there's another reason that Alabama wins this category. We're willing to shout "Roll Tide" until the cows come home, because they are one of the few teams on this list to ever ensure that their less favorable fans received their comeuppance. While credit technically goes to the sheriff of Lee County, the comeuppance in question took the form of Operation Iron Snare.
About 140 Alabamans who had not been paying their child support (to the extent that there were bench warrants for their arrest) received letters saying that they were going to receive free tickets to watch the Tide compete with Auburn in the Iron Bowl. When they got to the celebration, they found no reason to be suspicious. There were people cheering, balloons in the air, music blasting from speakers. Everything looked to be in order, right up to the point where they were slapped in handcuffs and taken back to the station. Some people thought the sting was sleazy, or even cruel. Then again, what do you call a person who prioritizes the Iron Bowl over supporting their child?
#2. Assaulting Actual Players
One of the worst fan behaviors comes in the form of people who take it upon themselves to insult the actual players of their favorite sport. This is one of the major areas in which insanity meets entitlement.
Take, for instance, Zach Mettenberger. Before the young quarterback was drafted to the Tennessee Titans, he was one of the star players over at LSU. Apparently, his sheer existence was enough to rub at least one Alabama fan the wrong way. While Mettenberger was hanging out at a bar in Nashville last year, minding his own business (as corroborated by the bar owner), he suddenly found himself being sucker-punched for no apparent reason. Lucky for the fan who hooked him, Mettenberger had enough grace under fire to keep himself calm. He did not fight back, and did not even press charges. He's had a surprisingly good humor about it, reportedly joking about the instance with his teammates in the locker room.
Of course, this behavior isn't always done on purpose. Sometimes players are assaulted not by fans, but simply by people who embody the worst of human nature. Such was the experience of Curt Ford, retired outfielder for the St. Louis Cardinals. After he had tried to pull up to a gas station pump at the same time as another car, he graciously backed away and drove up to another pump. However, the other driver, James Street, was not willing to forgive the accident. Why? Because Ford is a black man. Street left his car, told Ford to "go back to Ferguson," and punched him in the face.
Even when players are assaulted on purpose, it isn't always of a violent nature. Fans usually have to go out of their way to get famous, such as the Joker, a New Orleans Saints fan popular for dressing up like the Heath Ledger incarnation of the Batman villain from The Dark Knight. During a game in November of last year, Jimmy Graham had leapt into the stands following a touchdown. He then found himself being groped by the Joker, who grabbed a handful of Graham's rear. Graham told the media afterward that he was never going to thank the fans in that fashion again. The Joker, whose real name is Scott McGowan, blew off the sexual assault as a joke when he stated: "I officially know now that he is a tight end."
Some fans had angry reactions to the Joker's sexual assault. A number of fans leapt to McGowan's defense, saying that critics were reacting or even that they were homophobic. However, as many other fans pointed out, the issue would have been cut and dry if it had happened to one of the team's cheerleaders, the Saintsations.
Granted, sometimes emotions flare instantaneously, and fans may get so hot that they almost can't control their own actions. In some cases of violence, this results in assaults that happen so fast, we aren't even sure if they happened at all. A prime case was the notorious incident involving New England Patriots running back LeGarrette Blount.
When he was playing for the Oregon Ducks in college, he punched one of the Boise State Broncos instead of shaking his hand after the Ducks lost by eleven points (Blount himself actually finished the game with negative yards). Blount was escorted off the field, but not before trying to take to the stands and go after BSU fans. Allegedly, this additional outburst was caused by two fans, one of which punched him as he was being escorted away while the other threatened him with a chair. If Blount was telling the truth, one has to wonder what the fans were thinking when they threatened a guy in full padding.
Most fans, however, take the lazy approach and just throw things. For instance, in 2009, someone threw a beer cup at center fielder Shane Victorino of the Philadelphia Phillies. The fan was subsequently arrested, as was the fan who received a month in prison after hitting Oakland catcher Mike Piazza with a water bottle in 2007. There were also two fans arrested during the 2007 NBA Western Conference Finals, when numerous fans of the Utah Jazz began throwing garbage at shooting guard Manu Ginóbili of the San Antonio Spurs.
Winner: Detroit Pistons
One of the most notable incidents of player assault involves both throwing things as well as more direct violence. This one took place in 2004, when the Detroit Pistons were playing the Indiana Pacers. It began when the players started fighting each other. The first instance of spectator involvement occurred when the Pacers' starting small forward Metta World Peace (or Ron Artest, as he was known at the time) got hit by someone's drink. Artest, one of the people who started the initial player brawl with Detroit forward/center Ben Wallace, quickly decided to show the fans exactly why it's insane for a layman to assault a star athlete.
Small forward Stephen Jackson and power forward Jermaine O'Neal joined Artest as he rushed the stands and began to fight the Pistons fans. The fans decided to fight offense with offense, and those who did not defend themselves in the stands began rushing the court and attacking members of Indiana's team who at that point had remained mostly uninvolved. Those who were not able to take part in the actual brawl still made their presence known, assaulting Indiana coaches and players with food and trash from the stands. One person even got mad enough to throw a chair.
Naturally, the players involved in the fight received a number of penalties. Between nine players who received penalties, there were close to 150 suspensions altogether. Five of the Pacers also faced charges of assault and battery, as did five of the fans. Two of the fans involved even received life bans from attending Pistons home games, being banned from all other events hosted by Palace Sports and Entertainment as well.
The worst part for Pistons fans who took part in the fight was that it ultimately cost them the game. While members of the Pacers had initiated the brawl with fans, the fight got so out of hand once fans had rushed the court that the end of the game had to be cancelled. Indiana was ahead by 15 points when the fight had broken out, so they ended up winning the game. In addition to the inevitable black eye a few Pistons fans received from guys they never should have tried to fight to begin with, they also had to go home with something of a bruised ego. Well done.
#1. Starting Massive Dangerous Riots
One of the worst insane fan behaviors is, unfortunately, one of the most common. Strap yourselves in, because this is going to be lengthy.
It seems like the most natural thing in the world that fans would get excited about seeing their team win a big game. When the San Francisco Giants won the World Series last year, fans were notably excited. It was the Giants' third World Series title in half a decade, and their supports were elated to say the least. As thousands of fans crowded into the streets to celebrate, things quickly escalated. Drunken fans began to start bonfires in the streets, resulting in minor injuries when one man fell into the blaze. Windows were smashed, and violence became second-nature. By the end of the night, police had arrested forty rioters.
While most of these arrests were for public intoxication, there were numerous felonies as well. Two people were shot, one man sustained multiple stab wounds, and numerous cars (including nine police cruisers) were vandalized. Smoke from fireworks lingered in the air, and graffiti covered the walls of the city. Three policemen were injured while trying to calm things down.
This was not an isolated incident. Their previous win in 2012 resulted in a city bus having its windows smashed out and being set aflame. Oddly enough, however, when the Giants won the World Series for the first time in over half a century back in 2010, things did not grow so out of hand. As far as California sports riots are concerned, 2010 was the year of the Lakers.
The Lakers had just beaten their long-time rivals, the Boston Celtics, in the 2010 NBA Championship. Fans of the team were more than slightly enthused, and many began taking their clothes off while running through the streets while others pelted rocks at policemen and smashed car windows. One man was even beaten to the point of losing consciousness. Again, this had happened before, in 2000 and 2009. The mayor of Los Angeles had increased the police presence in the city to prevent a third such occurrence, but it was simply to no avail. We can maybe chalk it up to the thrill of a nail-biting postseason, since both the 2010 Lakers riot and the 2014 Giants riot took place after a Game 7 win.
Of course, a team doesn't necessarily have to win a title in order to spark a riot. In fact, they don't even have to make it to the championship. When the Michigan State Spartans made it to the Final Four in this year's NCAA Division I Tournament, students and other MSU fans celebrated by the hundreds. While things did not escalate into a total riot, multiple arrests (various news outlets differ on the precise number, between 3 and 10) were made after a few of the celebrators decided to start lighting sweatshirts and couches on fire. It was essentially a much smaller version of the riot that took place after the Seattle Seahawks won the Super Bowl in 2014.
At least one student was also reportedly arrested for throwing bagels. The MSU police actually mentioned the bagel incident on their Twitter account, expressing (justifiable) confusion at the fact that throwing bagels had become a form of celebration. Still, considering that MSU's 2013 victory in the Big Ten championship led to approximately 39 arrests, a couple of students being nabbed on breakfast-related littering charges doesn't sound all that bad. It also wasn't as bad as UConn's riot after they won the NCAA Tournament last year, which resulted in flipped cars, campus windows being smashed out with a street light, and at least thirty arrests due to vandalism and disorderly conduct.
Losses result in just as many riots as wins. In 1999, MSU saw more than 130 arrests and hundreds of thousands of dollars in property damage after their basketball team lost to the Duke Blue Devils. The riot was so big that it actually established state legal precedent in Michigan, allowing students who participate in such riots to be banned from school for up to two years. Another loss, this time against UNC, resulted in a riot in 2005 that was broken up through a questionable use of tear gas.
Some of the most famous riots of all time have come out of Detroit. In 1984, teenager Bubba Helms reached a modest level of celebrity when he was photographed holding up a World Series pennant next to an overturned and flaming car. It was the first time the Detroit Tigers had won the World Series since 1968, which had been just over a year since left fielder Willie Horton had tried to calm down the 12th Street race riots. Detroit was hardly new to baseball-related riots, considering that a beanball thrown by Detroit during a 1924 game against the Yankees had led to a riot involving Ty Cobb, Babe Ruth, and hundreds of angry fans, one of whom was decked by an umpire after storming the field.
Winner: Boston Red Sox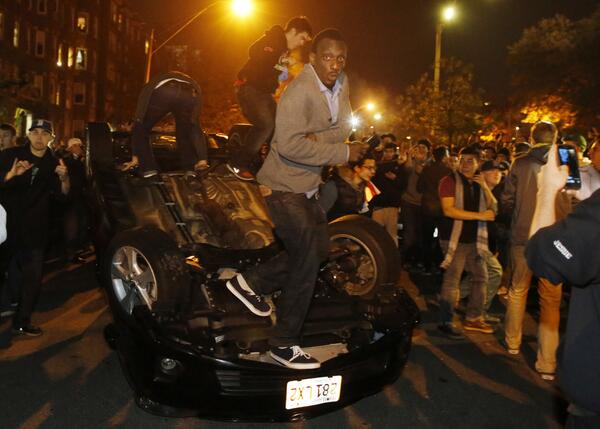 One of the most notorious riots related to the Boston Red Sox was in 2004. Due to what was known as the Curse of the Bambino, they had gone 86 years without winning a World Series. Given some of the lesser provocations for a few of the riots above, you probably won't be surprised to hear that a riot broke out after the Sox overcame their streak and managed to win the championship.
However, things took a tragic turn for Victoria Snelgrove, a 21-year-old journalism student of Emerson College. As police tried to quiet down the riot, someone fired off a non-lethal projectile that was meant to disperse pepper spray. As she began to bleed out, rioters continued to block the streets, making it impossible for ambulances to get through. This is made even more egregious by the fact that the medical center had been located a mere half a mile away. Snelgrove's autopsy would later show that, even had she survived, the pepper spray pellet would have caused brain damage in the area where it cracked her skull.
Undeterred by Snelgrove's death, Boston broke out into a riot once more in 2007 when the Boston Red Sox took home another World Series. Thousands of dollars' worth of property damage were incurred by the riot. But believe it or not, that is not why the Boston Red Sox have been declared the "winners" of this category.
That distinction goes toward 2013, not for the scale of the riot but for the sheer cheek of it. In fact, the riot was not too large at all. Only nine people were arrested and only two cars were flipped. It's a little disheartening to have to give fans credit for "only" flipping two cars (one of which had a driver still inside), but things could have been worse considering the size of the crowds and the apparent drunkenness of fans climbing and hanging from street lights and partying in the streets.
College-based riots were actually worse than the ones near Fenway. For instance, UMass Amherst had already had a major riot in 2006 when they lost a championship football game and responded by setting fires, looting, and assaulting police officers, resulting in more than twelve arrests. At least ten more arrests were made in 2013, as students brazenly assaulted cops despite the imposing presence of mounted police and riot police throwing tear gas. Meanwhile, at the University of New Hampshire, five people were arrested as thousands of students set off fireworks and partied in the streets while fighting off rubber bullets and pepper spray. Police were also assaulted and at least one car flipped at Keene State College, and fires were set at Plymouth State.
College campuses may have been worse than the scene at Fenway, but all of 2013's rioters get a special commendation because they were actually ballsy enough to warn police that they were going to riot. Various members of the Red Sox Nation basically dared police to increase their numbers (not long after the bombing at the Boston Marathon, mind you) as they posted on Twitter that they planned to riot whether the Sox won or lost. One UMass student posted that he wasn't sure if he was "more excited for the Sox to win or for an excuse to riot." A non-student posted that he hated the Sox, but just wanted them to win so that he could riot in Boston.
One might think that after a student had died, riots in Boston would calm down for good. If anything, they became more rampant over time. Not only did they above users express an opportunistic view of the situation, but their arrogance is demonstrated by the fact that they actually used the word "riot." They didn't say "party," or "celebrate." They said "riot." Thankfully, the reduced damage at Fenway indicates that the majority of Red Sox Nation are beginning to show a little more respect for the sport and for their city. As for the few making the team and city look bad? If you ask us, the police just can't arrest enough of them.